What do we mean by design?

This article originally appeared as part of Design for Europe and was written by Bas Leurs and Isobel Roberts from Nesta.
What comes to mind when you think of design? For many people, the word conjures up thoughts of creativity, products, architecture, graphics, or simply the way something looks or functions.
These are all valid responses, and in some ways capture what we might class as traditional forms of design. Today the practice of design regularly extends beyond these boundaries to encompass broader techniques, methods and approaches. When we talk about design in the field of innovation our focus is more on what we might call 'strategic design'.
Design can function at multiple levels and in different ways. Design professor Richard Buchanan captured his thinking into these 'four orders or design' illustrating how design as a discipline has moved from the traditional concept of the visual or tangible artefact through to orchestrating interactions and experiences, and to transforming systems.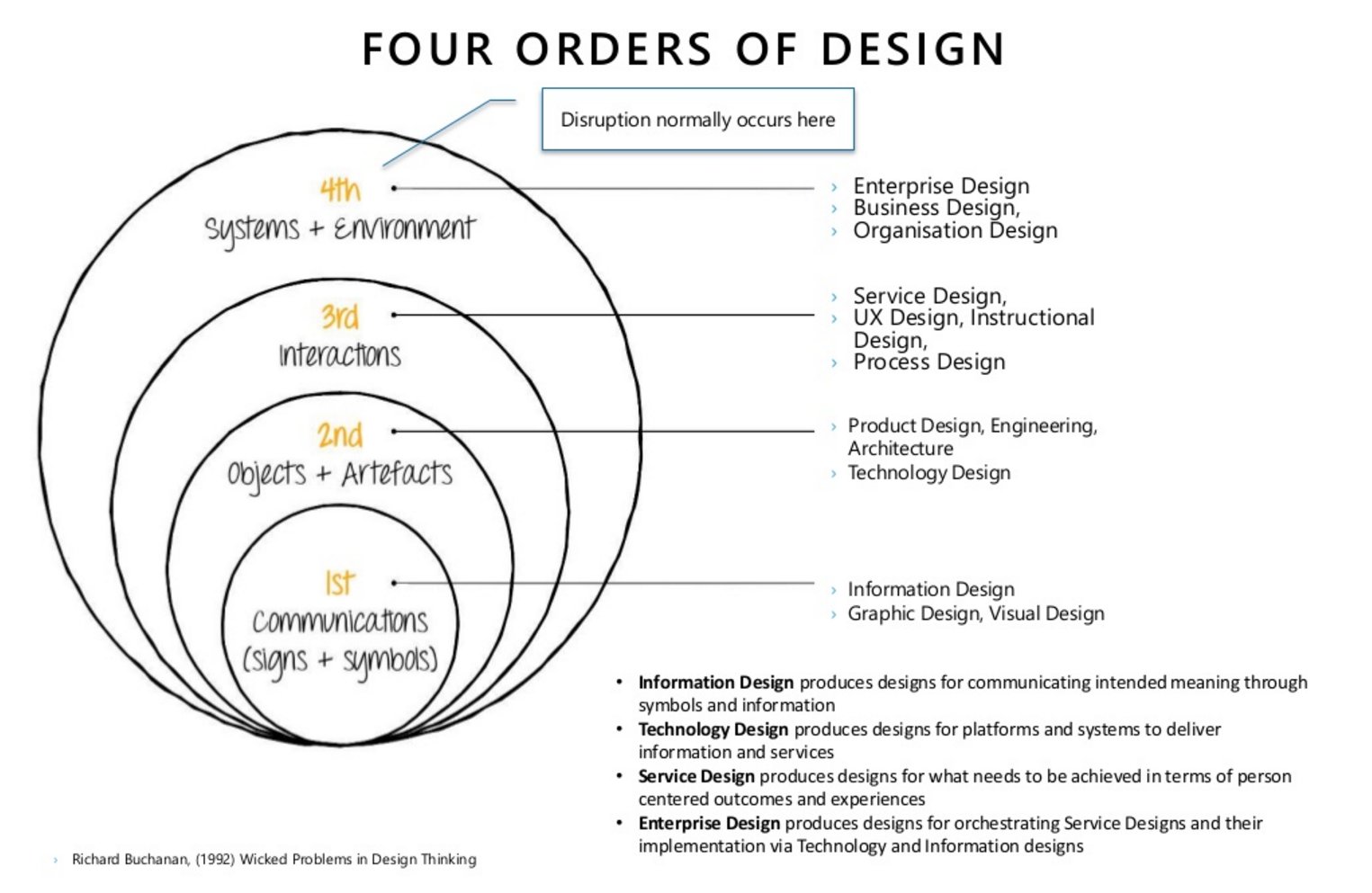 This model demonstrates the scope and role design can play. Designing a symbol or a logo is of course a skill, but is generally perceived to be relatively straightforward. Designing for a system or service however, is much more complex and multifaceted. At this end of the spectrum, design can be extremely complex. It can involve many actors and stakeholders, often with varying or and often conflicting interests or objectives. Design thinking in that sense often refers to the mindset and skills needed to work with the complexity around interactions and systems.
Everybody designs who devises courses of action aimed at changing existing situations into preferred ones.

Herbert Simon, 1969
As the quote from Herbert Simon describes, designing isn't just for professionals. It is a fundamental human activity and capability, and humankind has in fact been designing since it began inventing and using tools thousands of years ago. Planning your day in an efficient way or rearranging your furniture to allow for better flow are examples of modern everyday activities that involve design skills.
Design is also about change, and that can be good or bad. But the importance here is that design should be about improving situations as design should be is ultimately about making things better. This approach can be applied to policymaking and public service provision too – you create policies and services because you want to create a preferred situation, a future state, that is better than the current state.
When we talk about design in the field of innovation, our focus is on designing solutions for – and often with – others to achieve that a desired future state (i.e. strategic objective). The concept of "fit" is key in this process. Design is ultimately about generating a fit across a number of different elements:
This diagram is of course an oversimplified representation and lacks the richness and complexity that surrounds these elements in reality, but it is still useful helpful for understanding key relations around "fit". These three key relations are:
Solution-problem fit: the solution should provide the right for the problem.
Solution-user fit: the solution should fit with the user's physical and cognitive capabilities, preferences and needs.
Solution-provider fit: the solution should fit with the business processes of the solution provider(s).
This idea of 'fit' can also be expanded to other areas that involve design activity, such as policymaking. Take for example the problem of growing childhood obesity. A government might tax sugar-sweetened drinks as a policy intervention to tackle this issue. But how does this fit with the motivations and everyday routines of children? Will it change their behaviour? And how does it fit with government processes? How will it be enforced this policy, and what departments will need to collaborate on it? How much manpower will it take?
Bear in mind that design doesn't pursue to generate a perfect fit across all three dimensions, rather it aims create a fit that's good enough. In order to do that, there are four principles that help generate this fit and that anyone can learn and use:
Empathising
One of the core principles of design is empathy; that by putting yourself in the shoes of your users and learning as much about them as you can, you are more likely to create solutions that hit the mark for them.
Iterating
Assessing whether a solution is good enough to address the problem should be tested through a trial and error process. This is the essence of prototyping. By building prototypes, any assumptions on what might work are tested at an early stage, and this often leads to a revised definition of the problem, or an improvement in the design of the solution.
Collaborating
Particularly in emerging design disciplines such as social design and service design, design catalyses change by bringing people together and enabling collaboration. Professional designers, or design thinkers, can often help play a coordinating role here by bringing internal and external stakeholders together to deliver an integrated offer.
Visualising
Through visualisation, complex information can be made comprehensible to support decision-making. Visual thinking is the universal language of design that helps to drives experimentation, build common ground across stakeholders and share user insights.
These approaches might feel unfamiliar, but remember that design is something that everybody has the capacity to do.
Subscribe to our newsletter
Want to keep up with the latest from the Design Council?